DelleD and the Agrocampus Ouest Foundation have joined forces to create an "AgroHealth" corporate chair.
In order to elaborate an efficient agronomic engineering, under controlled conditions, aiming at optimizing and standardizing the architectural development of the cannabis plant.
The "AgroHealth Innovation" chair is part of a context of evolution in agronomy practices where the lack of academic knowledge hinders the identification of markers to evaluate the physiological state and development of the plant in its production cycle but also for varietal selection.
The objective of the "AgroHealth Innovation" Chair is to promote missions of general interest by offering an educational program focusing on scientific research, innovation and entrepreneurial training.
It will be in particular a question of apprehending by means of a multidisciplinary approach the effect of the light on the development of the cannabis plant in order to consolidate the academic knowledge.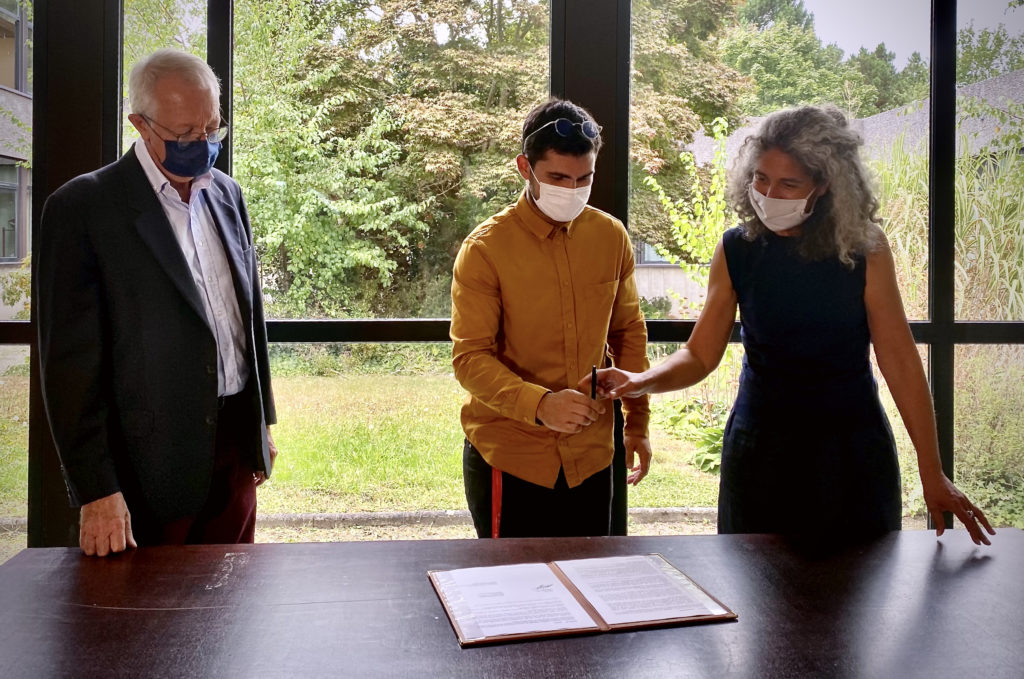 Franck Milone, Founder of DelleD, Alessia Lefébure, Director of Agrocampus Ouest and Arnaud Messager, President of the Agrocampus Ouest Foundation sign the Chair agreement on September 9, 2021
A PROJECT FIRMLY ANCHORED IN OUR TERRITORIES:
"This is the first public funding for the development of a cannabis-based medicine. We are pleased to receive this funding to support efforts to improve the quality of life of French patients and look forward to further support for our pharmaceutical development projects. We hope to create strong synergies between agronomy and pharmaceutical innovation." says Franck Milone, Founder of DelleD.
"Our project is to train students who are committed to research and innovation for the betterment of society. The interactions between health, agriculture, food and economic issues are more than necessary today. We are very attentive to offering future engineers training opportunities on emerging issues and methods." says Alessia Lefébure, director of Agrocampus Ouest, an internal school of the Agro Institute.
DelleD is a French biotechnology company specialized in the optimization of plant production through lighting and artificial intelligence as well as in the development of medical cannabis-based drugs through its laboratory LaFleur.
With its vertically integrated approach, DelleD aims to create a true transdisciplinary consortium (agronomy, modeling, digital biology, chemistry and pharmacognosy…) in the research and development of innovative medical cannabis products.
AGROCAMPUS OUEST is a large public school in life sciences and the environment, which forms with Montpellier SupAgro, the Agro Institute, since January 1, 2020, placed under the dual supervision of the Ministry of Agriculture and Food and the Ministry of Higher Education of Research and l'Innovation.
Based on its training, research and innovation missions, AGROCAMPUS OUEST delivers 4 engineering degrees, as well as masters and doctorate degrees, in the fields of agronomy, agrifood, horticulture and landscape. These courses are supported by leading research, mainly in partnership with INRAE.
Garance UBALDI
Public Relations Manager
Mail : garance@delled.fr
Christine DUMANGET
Foundation Officer
Mail : christine.dumanget@agrocampus-ouest.fr